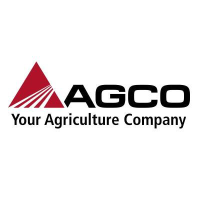 Summary

Country
United States of America
Intrinsic Value
AGCO Intrinsic Value

What a stock is worth
The Intrinsic Value of one NYSE:AGCO stock under the Base Scenario is 191.67 USD. Compared to the current market price of 117.48 USD, NYSE:AGCO stock is Undervalued by 63% .
The Intrinsic Value is calculated as the average of stock's DCF Value and Relative Value.
AGCO Intrinsic Value
Base Scenario
Wall Street Price Target
AGCO Price Targets

Price Targets made by Wall Street
12-month price targets for AGCO stock made by Wall Street professionals. The average price target is 156.64 USD with a low forecast of 128.27 USD and a high forecast of 210 USD.
| | |
| --- | --- |
| | 9% Upside |
| | 33% Upside |
| | 79% Upside |
Company Profile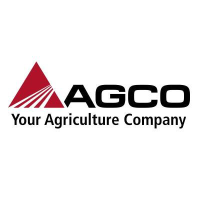 AGCO Corp
Description
AGCO Corp. engages in the manufacture and distribution of agricultural equipment and related replacement parts. The company is headquartered in Duluth, Georgia and currently employs 21,400 full-time employees. The firm sells a range of agricultural equipment, including tractors, combines, self-propelled sprayers, hay tools, forage equipment, seeding and tillage equipment, implements, and grain storage and protein production systems. The firm's segments are North America, South America, Europe/Middle East, and Asia/Pacific/Africa. The firm's products are marketed under various brands, including Challenger, Fendt, GSI, Massey Ferguson and Valtra. As of December 31, 2016, the Company distributed its products through over 3,000 independent dealers and distributors in more than 150 countries. In addition, the Company also provides retail and wholesale financing through its finance joint ventures with Cooperatieve Centrale Raiffeisen-Boerenleenbank B.A. (Rabobank). The firm's AGCO Power engines division produces diesel engines, gears and generating sets.
Country
United States of America
Industry
Machinery
Contact
IPO
1992-06-16
Employees
21 400
Officers
Chairman, Pres & CEO
Mr. Eric P. Hansotia
Sr. VP & CFO
Mr. Andrew H. Beck
Sr. VP & GM of North America
Mr. Robert B. Crain
Sr. VP & Chief Supply Chain Officer
Mr. Hans-Bernd Veltmaat
VP & Chief Accounting Officer
Ms. Lara T. Long
VP of Investor Relations
Mr. Greg Peterson